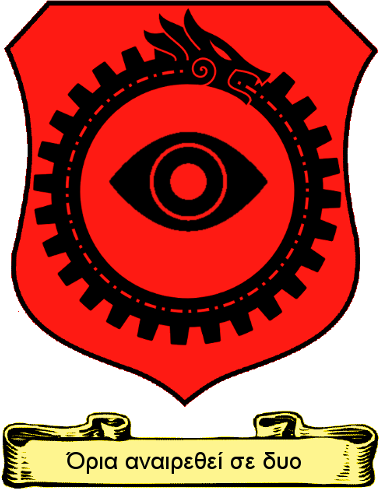 RED STAHL FREIKORPS


Location: Their HQ is located within the long abandoned and forgotten Soviet Bunker in the event of a nuclear attack from NATO within the region of Smolensk Oblast, Russia, chosen particularly due to the fortification, secrecy and easy defensible location of the bunker, as well as the cover up of Russian authorities from disclosing its full military structure at the mouth of Europe. Officially within select old Russian channels, it is referred to as "decommissioned", but that is far from the truth as it is still functional within the RSF's control.

Members:
Chief Commander (Leader): Americo Santos.
Colonel (Vice-Leader): Alexandre Ramirez.
Head of Development Division and Ethical Research: Aveira Scáthach.

Description: Founded by Americo with his funds he had managed to accrue because he shot a bunch of pre-pubescent teenagers of dim nature to death, not exactly something to do lightly as it costs a lot of money, he decided to trademark the name Red Stahl Freikorps in Russia, and start up a company there as a Private Military Contracting Company in the aims of providing services be it overt or covert in nature to select clients. It's not that huge, and has been inspected by really super trusty old Soviet era Officers whom seem to approve. Certainly the usage of dollars makes for a nice incentive to listen, in the name of ethics. The point of the aims of such an organization is to get lots of money, so they can get more equipment to make even more money, so they can get even more equipment to make even more money, and so on and so forth the cycle goes. With money, comes new hardware, and even more recruits, as currently recruits are provided by the likes of Aveira, whom saw fit to generously endow a plethora of young men and women for service on a military company level.

Red Stahl Freikorps provides services not bound nationally by a country's agenda, so much as own private corporate interests as a privatized entity. They have two levels of services classified internally as those that pertain to legal works, and then the clandestine wetworks. The former of which makes use of normal employees, as there is no fears of exposure to their true nature, and the latter of which pertains towards the supernatural, and far more lucrative, but also quite risky at that. As a result, there are two wings within the RSF, both of which are distinct from one another, with the former unaware of the latter, and the latter composed of those that are in their innate nature, inhuman, or even monstrous. A confederation united by love for monetary gains, if anything else.

Members are typically given uniforms with a patch to the side, if they're the overt wing of non-supernatural composition. Those of the covert wing, the Black Ops, so named as success or death is the primary goal, are instead given far more leeway, so long as they do not have anything to implicate the good name of the Red Stahl Freikorps, and to further emphasize the good nature of the PMC, they are paid higher than their contemporaries too. Truly, a bastion of equality.

Soldiers within the overt division are kitted with modern armaments similar to the Russian military, and even share many of the equipment in terms of designs. Covert Black Ops troops are kitted on the other hand with whatever custom armaments they'd prefer, if only because it wouldn't trace back to the RSF as easily, if not because it is not the standard equipment in their company.

History: Once upon a time, Americo had managed to acquire a decent amount of funding after his latest mission. He used said funds to found a company in Russia as a PMC with the intended aim of excellent service, and some other corporate nonsense. Thus far, making use of his contacts, gathered a retinue of capable individuals together, and some not so capable ones, as to form said company, and even drawn up investors from said contacts within the Russian sector of the locality, particularly olden wardogs that owe favours to the man for ridding them of a nuisance from the face of the world, and saving their ears from a most shrill wailing called singing. Americo would though later gather up his retinue, and accumulate armaments to finally consolidate the formation of the company. Whether it stands in the annals of time is yet to be seen. As it is recent, it has minimal amounts of staffers, and as much funding has been exhausted, activity must be accumulated for profits to be made into something larger, and far more capable as it stands.

Color: Cyan for its the luckiest.

_________________
"Nanomachines, son."
Spoiler:
Admin




Posts

: 62


Join date

: 2014-01-20

Character sheet
Souls: 4
Organization: Gun-for-hire
Race: Advanced Human


I smell a group. Or...something else.
SCIONS OF LAMIA wrote:Location: They have multiple safehouses located in major cities for convenience, typically in Europe, with the rest being bought temporarily on fake ID's or on another person's identification used as collateral. Their primary HQ though is located in Tromsø, Norway, within a compound which only members of their organization allowed into, due largely in part to owning a huge majority of corporate entities there spread out between the Council members, thus having overall control of the city where it matters, and the politicians in their pockets, to have political sway without giving themselves away.
Are you saying they own all corporations or just the ones in the city? If it's the latter, that's still a big place. How do a bunch of random dickheads afford that?
money press wrote:Members:
Chief Divisional Manager (Leader): Americo Santos.
Divisional Lieutenant (Vice-Leader): Alexandre Ramirez.
Chief Augur: Aveira Scáthach.
Wayward Brother: Enfield Linkletter.
What a bunch of a-holes.
Bunch of jackasses standing in a circle wrote:Description: Functioning as a policing authority on matters supernatural and magical, not as a means to equate balance in the favour of humanity, as much as to espouse power unto themselves through knowledge and research, they are known for hoarding artifacts and information alike, that to part with it is often done through the steepest of prices. SOL ensures that their veil of obscurity and mystique remains so, and will tenaciously hunt down those that exist out of its organization to maintain secrecy of the supernatural world, if only to maintain an advantage over others. They are also draconic on matters magical, not technically an institution of magic, its great library of naetheric and some aetheric learning can be attained, and often produces great spellcasters... as well as pressganging those that exist without. Of course, ultimately their goal most of all is self-preservation, followed by accumulation of artifacts and information, and finally to attain power often thought long lost since the times of Lamia.

They have many wings of agents that serve within specific divisions for specific functions. Despite that, those said wings aren't exactly exclusive to a single task, but maintain a rivalry that borders outright hostility, what with their own aims at securing artifacts and knowledge of esoteric origins to secure their own prestige, and their own standing within the organization itself, with the largest of wings being the Retrieval Wings, redundant in that there are two of them headed by rival managers.

Despite the seemingly decentralized nature, and the loose association under the umbrella of SOL, all members ultimately answer to a member of the Committee of Twelve, also known as Councilmen, whose words are often times the unofficial law. Sometimes, respected, sometimes feared, but ultimately eyed as those to impress if one wants advancement in the organization.

Ironically, magic is not the enterprise they mainly dabble in, but accumulation of power. Magic just so happens to be a convenient medium to express themselves into.

One thing is for certain, that among the little that can be heard out of the legalese from the Councilmen, the only thing that seems to be occurring most in their talks is that of integration, for whatever that means.

Joining SOL means to practically be bound with them, as even the lowliest of grunt, to the highest of executive power, must submit themselves to signing a contract that one cannot get out of, and whomever signs it is not even encouraged to read it, but if they do, it is of their own choice. It is said to contain about hundreds of clauses, typically monotonous legalese babble that regal about the long and arduous origins of the organization and homage paid to Lamia in many creative ways, but the most distinct writing happens to be an inviolable promise to loyalty, in the form of a Geis, in the complete incapability to actually betray the organization. But to kill others for self-advancement in the organization is an entirely different story all together.
Seems kind of disorganized and confusing. I'm going to see what the history tells me.
Because Magic wrote:History: Originally claiming descent from Lamia as traditions bade, the known formulation of the group came about as the 14th incarnation of an often destroyed entity, be it through strife or actual elimination. Whatever the truth of the matter was, much of the information was lost when Carthage was sacked, as the Romans, hard fought and hard pressed at every street corner, so close to death and destruction so many times before, had found themselves fighting against the Lamians whom though were uninvolved with the Punic Wars, were forcibly brought along with the full brunt of their force. Scipio had managed to eventually slay the last of the Lamians, but at no small cost of his own, but on a great apprehensiveness and crippling casualty that was eventually covered up, and declared damnatio memoriae, an unusual case for this was not reserved for individuals, but for a group of people for reasons unknown, buried as deep as the city of Carthage itself as the land was salted, and a hefty effort to destroy all knowledge held by the Romans was underway, but ultimately failed as a few officers attained the scrolls for perhaps a myriad of reasons of their own knowing, but whatever the case, what little attained out of their repository of knowledge was said to be decades ahead in research in matters mystical, that the destruction deprived several unique fields of magical sciences that none others can replicate.

Whatever had happened in the past, remained shrouded in the mysteries of its veil as only the archaeological finding of their old knowledge from the many subsequent incarnations could reveal as to their fates, but only in hypothetical scenarios, whereas the rest were the much yearned for repository of knowledge that the current incarnation takes, as the research is very much still valued even today, given the lack of replication due to the fresh slate brought from the current incarnation, which derives only half of its knowledge from the previous one, a result of a newly birthed enterprise brought to fruition by a 'civil war' within its own ranks in the 13th. The 14th was initiated by a vampire of olden age referred to as the 'Vizier', yet pragmatic views as opposed to debauched ones, to divorce the idea of entry into the organization to be exclusive to the vampires, that to open it to others of promise than to segregate it, but as a result, met harsh and bitter resistance to his reforms which he preached with physical violence, which soon escalated into outright hostility.

It went on for a time for a decade, before finally control was consolidated by the Vizier, on a heap of bodies, where finally he had enacted his reforms on the foot of the barely held together SOL (Scions of Lamia), not exactly making his reforms based on altruism or anything as primitive as benign intent, but rather on holding together the organization through investment of others, the involvement of other species, and to provide a bulwark against other forces at play, particularly the more powerful Consortium of vampires, their biggest rivals. A reform made out of necessity. In the ensuing years, the Vizier recruited a modest amount of Lycans, consorted with a Coven of witches, and the rest were comprised of humans kept in the dark, serving SOL for promises of power and reward, which he was generous with, yet so too did he dole out punishments for failure. This as a result brought a new prosperity to the once stagnating enterprise, and soon they shifted their focus from warring primarily for accumulation of power, with financial gains on the side, to primarily finances as a means towards enrichment, and subsequently power, with power on the side as a result, an inverse shift which served truer to their needs than mere ability.

In the upcoming century that came on, they weathered through many hardships and trials, as the Vizier appointed a new Council from the ranks of the gifted to which he can trust not to act incompetently, encouraged competition, as lethal as it was, rather than to fondle egos, and even implemented the need for Geis contracts to come to ensure loyalty. As progressive as he sounded, he sank into a bout of paranoia, which came to encompass his senses whole, that he took to hiding entirely in fear of assassination, an irony not lost on him due to the 'healthy' competition he encouraged that for advancements, one needs to usurp the position and have acknowledgement from other Councilmen to advance, something all of them have, to his sensibilities, agreed to acknowledge if the Vizier was slain, that his leadership spot would be open for the taking.

This absence as a result, left the organization, Scions of Lamia, to be blanketed with a void of power for the better half of the century, past the 1950's and so on, with the Councilers keeping a sharp eye on one another, embarking on a period of personal cold war where they attempted to accumulate their own power, and their following subsequently. Coincidentally this was at the time where their numbers were the strongest, and their wealth grew exponentially, if not their search for knowledge, and attainment of many artifacts (which was later sealed, unknown to one another except the holder, within their own personal vaults). This as a result came to bring them the originally intended goal in mind from the Vizier for strength, so that never again can the organization be destroyed like the past incarnation, as the besmirched cycle demanded from extrapolated history.

It would be in the modern age, they turn their gazes towards anything that can tip the scale and balance of power in their favour, through highly capable individuals, but of course with a modicum of suspicion, lest they be overtaken by their very own hired help and find themselves on the wrong end of a gun, or worse.

Color: Cyan for its the luckiest.
I really don't like the fact that no one is playing anything in a position of power in this group. It kind of seems like you guys just want easier access to everything and 2 point missions.
When I first heard of this, I thought it was an all magic group that wanted to get control of magic, and all the cliche bullshit that would totally work. But I really don't know what the purpose of this group is, considering you guys, at your positions in the group and with no actual leadership to fall back on, can't really do anything with it. What does this group provide you or the forum that you guys can't just accomplish on your own, like you have been?
Really makes me question why Enfield would even be involved with this. Why would a group in Europe go out of their way to enlist a guy who runs a general store in America to get their guns and shit, when they can use eBay just as well as he can?
My main issue is that these guys have no real cohesion. Like, you've got a witch, a regular guy, and two science freaks running around so far. How are they interacting? Do they just Avengers Assemble whenever a Dragon Ball shows up on the radar? And the group's goals are so generic ("We want power!") that it's just, like, how do they not have the power yet? Apparently, they already control a large town without anyone realizing it and have bases stationed all over the world.
Not only that, they've been destroyed, like, fifty times already. How are they still so powerful as to have limitless wealth, members, and can act as the magic mafia to take out random wizards like nothing?
Basically, I think you tried to make the Illuminati. Didn't really work, though.
Like, either make some guys who are the leaders here and give them an actual reason to have all this power, or redraft as something else.
_________________
Avatar by Henry Travers.
"My deck is not incoherent baby screams." T-Mikes
Admin




Posts

: 562


Join date

: 2013-10-09

Character sheet
Souls: 1
Organization: Independent
Race: Human


Harry Potter and the Electric Boogaloo incoming HOO. Will include change notes as soon as patch is implemented. The game will not come out as buggy as the intended release.
_________________
"Nanomachines, son."
Spoiler:
Admin




Posts

: 62


Join date

: 2014-01-20

Character sheet
Souls: 4
Organization: Gun-for-hire
Race: Advanced Human


Totes got one more person along guaranteed. Also finished the app.
_________________
Mission Count Mags -
A. Rifle: 4 magazines
M26 Modular Accessory Shotgun System: 2 magazines
Pistol: 4 magazines.
Admin




Posts

: 137


Join date

: 2013-10-10

Character sheet
Souls: 4
Organization: V.W.A.T.
Race: Human


Confirmed your fourth, so I can vote on this.

I gave you feedback back when this was WIP, so I don't really need to do it here. You've put forth the effort, and even though it's still a little questionable why such a thing would necessarily exist, the fact that you've reduced the size to just this one building with limited employees pushed this through for me.

Approvals: 1
Disapprovals: 0
_________________
Avatar by Henry Travers.
"My deck is not incoherent baby screams." T-Mikes
Admin




Posts

: 562


Join date

: 2013-10-09

Character sheet
Souls: 1
Organization: Independent
Race: Human


Works for me, sonny Jim.

APPROVALS: 02

DISAPPROVALS: 00
Admin




Posts

: 222


Join date

: 2013-10-10

Character sheet
Souls: 2
Organization: Independent
Race: Human


_________________
Avatar by Henry Travers.
"My deck is not incoherent baby screams." T-Mikes
Admin




Posts

: 562


Join date

: 2013-10-09

Character sheet
Souls: 1
Organization: Independent
Race: Human


Push it real good.

Approvals: 3

Dissaprovals: 0

_________________
"Nothing in life is to be feared, it is only to be understood. Now is the time to understand more, so that we may fear less." -Marie Curie
Admin




Posts

: 101


Join date

: 2013-10-11


Location

: Rome

Character sheet
Souls: 2
Organization: True Cross
Race: Human


Similar topics
---
Permissions in this forum:
You
cannot
reply to topics in this forum