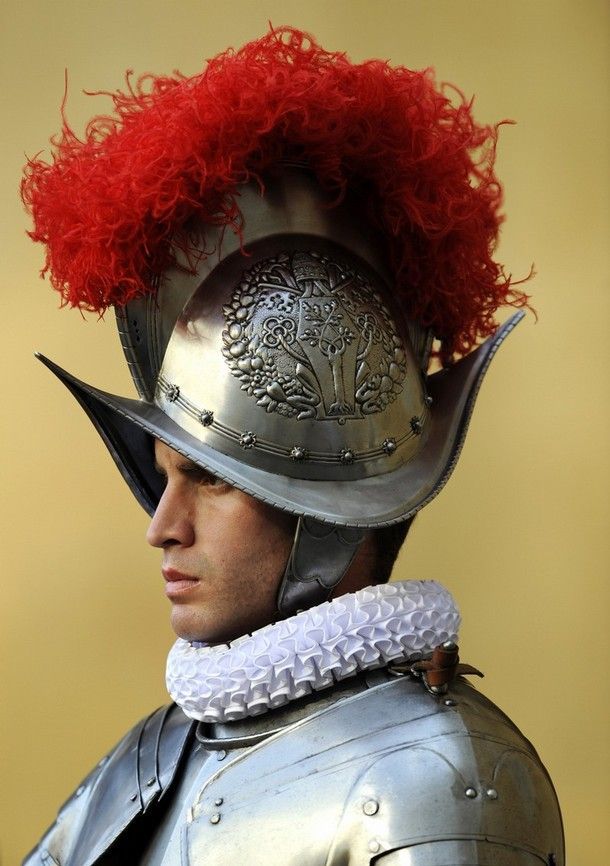 Name: Casamiro Falco Durante

Nicknames: -

Age:  38

Gender: Male

Race: Advanced Human

Sexuality: Heterosexual

Organization: Independent

Rank: Oberstleutnant (Lieutenant Colonel)of the Papal Swiss Guard


Appearance


Physical appearance:

Casamiro is an average man, when it comes to build and height. The Vatican requires that all men serving in the Guard be at least 1.74 meters tall. He is 1.78 meters in height, meeting the requirement with little to spare, while his weight is at a muscular 72.7 kilograms. Like every member of the Guard, he is extremely fit, though few ever see it beneath the layers of our uniform.

The rest of his appearance requires a bit of explanation. Casamiro suffers, though perhaps suffer is not the right word, from several congenital diseases that affect his appearance in various ways. First and foremost, he has six fingers on each hand, a most useful form of polydactyly. His centermost finger is duplicated so that all fingers are useful and it is often difficult to spot the deformity. Perhaps more noticeable are two interrelated traits. The first is a patch of white hair in his primarily greying black short-cut hair. Only visible when he have no helmet or beret, it is about the size of a hand and runs from the front of his head back. Some would call it piebaldism, but he has none of the pale skin that would often indicate such a condition. This lack of pigment stretches rather to his eyes, causing one to be a brilliant blue-gray while the other is a darker greenish hazel; heterochromia. Some have said this lack of symmetry gives him an eerie visage; others, a demonic gaze. Whatever the effect, his sight is neither enhanced nor degraded by it.

The rest of Casamiro's body is nothing of note. His jaw is strong; his chin is clean-shaven, as required by the Vatican for all Guards. His chest, arms, legs, back; all are bereft of tattoos or any such desecration to the body. As any man of war, he possesses no shortage of scars, the largest perhaps being from a set of claws drawn across his back when he was but a child.

Clothing of choice:

Casamiro's life is spent guarding the Holy Father, and it is rare for him to be out of uniform, aside from when he is sleeping. The standard Swiss Guard uniform was created in 1914, though its Renaissance appearance has led some to believe it was designed by Michelangelo or Raphael. The uniform consists of three colors: stripes of blue and yellow-orange, representing Della Rovere, the family of Pope Julius II; the inside flashings and the cuffs over the wrist are a deep crimson, representing Medici, the family of Pope Leo X. Striped boot covers similar to spats cover black boots, a high white collar stands stiff upon the neck, and a black beret covers the head. A brown leather belt with a gold buckle encircles the waist.

High ceremonial occasions, such as the reception of a foreign head of state incorporate specially made armor. While quite beautiful, the armor is fully functional, and it is worn during combat as well. Made with an alloy of beryllium, nickel, and titanium, it consists of a breastplate, pauldrons, and bracers and is stronger than any metal. Its gilding in silver assists in making it a real deterrent to those without life. It is also gilded in gold, though the use of that precious metal is for its beauty alone.


While the Papacy is often surrounded by pomp and ceremony, it is sometimes useful to appear more discrete. In such a situation, guards don simple, though well-tailored, black suits, with white shirt and tie, reminiscent of the President of the United State's Secret Service.




Equipment


The primary ceremonial weapon of the Swiss Guard is the 15th Century Swiss Halberd. Every guardsman learns proper use of this weapon during their training, and while it may seem an archaic weapon, it is highly effective in the hands of the guard. Its shaft is a hardened wood, while its axehead is formed using Damascus folding techniques. The sharpened edge of the axe contains no silver, in order to keep the blade sharp. But the back balancing spike and long spear-like tip are thinly coated with the holy substance, providing a poisonous touch to a vampire or ghoul.


While most guards wear a long sword or straight sabre, officers are permitted a rapier. As my rank befits, I wield a flamberge rapier. Directly translated, it means 'flame blade', and the description is apt. The blade is, again, Damascus steel, but the edge forms a wave-like pattern. This undulating length exerts an uncomfortable vibration that can translate into an attacker's blade. The blade's length is coated in silver, though the edge is free of the material. The hilt is wrapped in a silver braided cord while the guard is silver coated steel, flaring out in an elegant circular pattern. The counterweight is simple, though engraved with the oath of the Swiss Guard. The sheath is fine black leather, capped in silver.


While bladed weapons make for an impressive display, the Vatican is not without pragmatism. Sometimes, a gun is just the best option. In such a case, he carries a 9mm SIG-Saur pistol.


For something with a bit more firepower, he carries the Heckler & Koch MP-5 submachine gun.



Personality


It is not uncommon for one to surmise Casamiro is a man without humor. After all, he rarely smiles, and it is not his place to laugh at jokes while he holds his guard. But that is not to say he does not find amusement in certain situations and that he cannot appreciate the humor of a witty joke or observation. He simply has more control over my emotions and expressions than most. He says this, not to boast, but to state a simple fact. Like the men that guard the English monarchy at Westminster in London, his comrades and Casamiro must stand vigil over the Pope while observing many absurd and detestable acts. He withstands insults to the Holy See, Rome, the Lord Christ, and sometimes even himself without batting an eyelash or shifting his gaze.

For, you see, his entire existence is devoted to His Holiness. First, Pope John Paul II, and then Benedict and finally Francis, have been the objects of his utter and unquestionable loyalty. Defense of the faith is his Holiness' job, keeping him alive to do so is Casamiro's. This does not mean he is not aware of the political maneuvering and underhanded deals made by, not only those who question the Faith, but those closest to the Holy Father himself. Indeed, if he had such a desire, he could speak secrets in the right ears and maneuver the downfall of any number of men. But such is not his desire, nor his interest, and so any skill he might have in politics goes largely wasted aside from the occasional word in the Holy Father's ear, when it is appropriate.

And so, Casamiro's natural personality quite compliments the role which he plays for the Holy Church. Since he was young, he has been a man of little words. He prefers to keep his opinions to himself, and hehave never had trouble appearing unobtrusive. This allows for him to better observe those around him and predict what they will do, sometimes, perhaps, before they have even thought of it themselves.



Abilities


Casamiro is gifted with a rare talent where he can meld his mind with that of an animal and become one with them.  For now, he can only commune with his falcon, whose life has been elongated thanks to this human connection.  Whenever he chooses, Casamiro can close his eyes and turn his mind inward to find that wild flicker which is his companion.  Miles do not inhibit this connection, as far as he is aware.  But his bird does not enjoy venturing more than a couple miles from its companion.  However, he must be cautious of the amount of time he spends in this trance-like state.  Not only does he leave his body unprotected, but he begins to lose that which makes him "human".  His will will slowly dissolve into nothing more than a desire to eat, breed, and sleep.  He can ask the bird to go in a certain direction or turn his gaze on a particular object, but the falcon does not serve Casamiro.  Their relationship is one of respect, and the raptor is not obligated to do as the guardsman requests.

Level up abilities:  

1 level up = Casamiro can begin to catch fleeting glimpses through the eyes of another beast while he sleeps.
2 level up = Casamiro can begin to consciously venture into this chosen beast's mind and ride along.
3 level up = Casamiro can begin to request the animal's actions
4 level up = Casamiro and the beast act and think nearly as one when he places his mind alongside it



Biography


Casamiro was born in the small agricultural border town of Chiasso, Switzerland on January 6, 1984, the day of the Feast of Epiphany, or the day the magi first saw the child Christ. This significance of this date was not lost on his parents; it was assumed he would one day serve Holy Mother Church. While this assumption shaped much of his life, his childhood was much like any other's in his small community. His family were farmers and while he spent his days in school with all the other children, the rest of his time was spent in chores to help ensure the success of his family's small farm. He milked cows, herded pigs, and picked eggs out from under angry hens.

But perhaps Casamiro's favorite pastime was assisting his father in his ancestral duty of falconeering. His family kept several of the beasts and his every spare moment was spent near them. They were his companions, like dogs, only more fierce and intelligent. One did not dictate to the falcon what it should do, where it should fly, what it should kill. It was a mutual relationship of respect. Casamiro thought, perhaps, that it what made him love them so and eventually find that he could become one with the bird as it glided through the cloud studded sky. It certainly affected his relationship with his elders, as he would treat them with the respect the falcon showed to him.

Casamiro's mother and father approved of this activity since it improved his relationship with his teachers and brought them praise. His siblings were indifferent, too interested in their own affairs to pay much heed to the younger brother who was always with the raptors. This suited Casamiro just fine.He had proved himself a quiet child, who spoke rarely and preferred to play alone or with the animals instead of his peers.

Up until the day Casamiro was conscripted, this did not change and he became an expert falconeer.   He even began to dream of flying high on the wind.  Eventually, his dreams crept into reality and he found that he could will his consciousness to float alongside that of the vicious raptor he so respected.  Not even just that, but he could suggest or request the bird to fly to the north, or down near the ground and, if the beast agreed, down they would plummet to scout the earth for little crawling creatures that might pose a satisfying lunch.

On the day he left his family for his obligatory military service, Casamiro wept, not for leaving his parents or my siblings, but for abandoning his favorite falcon, Ferus. He soon discovered that his friend had not stayed in Chiasso, but had followed him to the academy where he was learning his military trade. Casamiro's days were completely absorbed by learning to shoot, to fight, to defend himself with a pole arm, military history, strategic theory. Nights were short, and consumed by exhausted sleep where he flew in between the stars on silent wings with eyes that could spot the smallest movement in the brush below. He learned to better interact with his peers, as he was constantly surrounded by them, and he excelled in my classes.

Casamiro's family had always assumed he would become a man of the cloth to fulfill the family's obligation to the Holy Church, something which he accepted with resignation. But when he turned nineteen, another opportunity presented itself. He had attained the age required to join the Papal Swiss Guard, the most well regarded mercenary army in a country where being a mercenary was a respectable occupation. He applied on the day of his birth, and waited anxiously for the response. When it came, he ripped open the envelope to find he been accepted into the Guard.

It seemed a little detail in his overwhelming excitement at being accepting into the elite guard of the Holy Father himself, that his instructors spoke in quiet voices about the darkness that moves and beasts with the brains of men and teeth sharper than a tiger's,  but he would soon be reminded of these inconsequential 'details' very soon. Arriving at the Vatican, he was quickly taken to a section deep within the Vatican to take advanced training to fight against beasts he had thought to be tales to keep small children in their beds at night, vampires and lycans. His speed, stamina, reflexes and agility, all was tested to the limit and elevated to the top of human abilities.  Casamiro was a Swiss Guard, and he would protect the Holy Father not only from the ordinary darkness of men's souls, but from those deeper more depraved evils.

Since that time of training, Casamiro has kept his guard, rising through the ranks through demonstration of his intelligence and insight.  His gift of flying with his falcon remained a secret which he dared tell no one.  After all, how good and holy can a skin changer be?





Posts

: 1


Join date

: 2014-11-12



It's wonderful to see Casamiro again and I really like the new special ability in particular. There are just a few points that I would like you to elaborate on.

1. Please include some ammunition counts on those firearms. Makes things easier to keep track of if worse comes to worse in a fight.

2. Please include some costs on the ability progression. (i.e. 1 point to upgrade from level 1 to level 2, 2 points to upgrade from level 2 to level 3 and so on and so forth)

3. I would recommend broadening your abilities section. In addition to your animal ability, this section should include other skills such as combat or academic training. While they are touched upon in other sections of the sheet, I would much prefer a comprehensive skills section for easy reference in the future.

4. More of an inquiry than a request for edits, but I'm rather curious about his personality. Does he really have no life or interests outside of his profession as a guardsman? It's certainly possible, many people are married to their work, but I just want to make sure that we're all on the same page with this.


Admin




Posts

: 222


Join date

: 2013-10-10

Character sheet
Souls: 2
Organization: Independent
Race: Human


Weapons look fine but I just want to stress how very traditional the halberd and flamberg are. These weapons are primarily for ceremony and appearance. After the shooting of pope Saint John Paul the II, they have stressed the importance for hand to hand/knife combat and firearms way more than traditional weapons. They are often left behind if they are needed, in favor of firearms for their practicality.

Still though, if your dude thought he could do better with a halberd more power to him. They always have a few of those guys around near entrances and crowds even if the majority of them have guns at the time.

Personality seems ok, Tyler's question still applies. My only beef is this, if he is aware of someone's underhanded plot against the papacy, especially by someone who is close to the pope. Why wouldn't he do all in his power to destroy it? Or nip it in the bud or something. He's listed as a completely and totally devoted man. I just can't understand why he wouldn't feel that worth mentioning to someone.

History seems cool, probably good enough. The Swiss guard are no longer regarded as mercenaries though. They owe complete and total allegiance to the holy father. Regardless of pay or profit. That is but a technicality however.

All in all good job, I like this guy and I am excited to see him on the boards. Fix those things up are explain to me why they are fine and you will easily get an approval.
_________________
Almighty Lord, Word of God the Father, Jesus Christ, God and Lord of all creation; who gave to your holy apostles the power to tramp underfoot serpents and scorpions; who along with the other mandates to work miracles was pleased to grant them the authority to say: "Depart, you devils!" and by whose might Satan was made to fall from heaven like lightning; I humbly call on your holy name in fear and trembling, asking that you grant me, your unworthy servant, pardon for all my sins, steadfast faith, and the power - supported by your mighty arm - to confront with confidence and resolution this cruel demon. I ask this through you, Jesus Christ, our Lord and God, who are coming to judge both the living and the dead and the world by fire.
~Exorcism Rite of 1999.
http://duskcrusade.forumotion.com/t16-father-anthony-diem
Admin




Posts

: 406


Join date

: 2013-10-09


Location

: Bleeding out

Character sheet
Souls: 2
Organization: True Cross
Race: Human


Also please excuse the very brisk nature of my post. If anything sounds off or insulting you have my absolute upmost apologies. I've recently busted up a couple fingers and my typing isn't up to par. To make up for any unintended insult I'd just like to tell you that I love this guy, and it's by far one of the most accurate Catholic people we've had on the site. (Realistically catholic that is.)
_________________
Almighty Lord, Word of God the Father, Jesus Christ, God and Lord of all creation; who gave to your holy apostles the power to tramp underfoot serpents and scorpions; who along with the other mandates to work miracles was pleased to grant them the authority to say: "Depart, you devils!" and by whose might Satan was made to fall from heaven like lightning; I humbly call on your holy name in fear and trembling, asking that you grant me, your unworthy servant, pardon for all my sins, steadfast faith, and the power - supported by your mighty arm - to confront with confidence and resolution this cruel demon. I ask this through you, Jesus Christ, our Lord and God, who are coming to judge both the living and the dead and the world by fire.
~Exorcism Rite of 1999.
http://duskcrusade.forumotion.com/t16-father-anthony-diem
Admin




Posts

: 406


Join date

: 2013-10-09


Location

: Bleeding out

Character sheet
Souls: 2
Organization: True Cross
Race: Human


Similar topics
---
Permissions in this forum:
You
cannot
reply to topics in this forum